Friday Faves on a Monday. Here goes…finally:
1) Beyond the Guitar's "Jenny of Oldstones"– Nathan Mills of Beyond the Guitar has written an arrangement of this heart-wrenching ballad, "Jenny of Oldstones".  This song performed by Florence + the Machine for the TV show Game of Thrones. Whether or not it has an emotional appeal for you because you are a fan of the show, you will love "all the feels" in Nathan's classical guitar interpretation of the song.
2) Doing What You Love – Marcel Schwantes, executive coach and a voice for servant leadership, posted, this week, a provocative piece on success. He quoted notables Warren Buffett, Tim Cook, and  Steve Jobs on the one characteristic that sets apart successful people from all others.
"Doing what you love".
Photo Credit: Flickr
We may all go through seasons where we are working in a job because it is our vehicle for a paycheck, to pay the bills, to support the family. Work we have loved can go through iterations to the point it is no longer that work we are passionate about.
Schwantes himself also supports the core value of love in action. "Knowing what you love should be a top priority. If you don't know what it is you love, then finding out what it is should be your first step. Some people call it passion; others call it purpose. Whichever term you choose, your purpose is exactly what you can't help but keep doing. Even if there are low monetary rewards, you would probably do it anyway because of your love for it. When you discover what this is for you, it's the thing that makes you come alive." – Marcel Schwantes
3) Language-Learning for Life – I have a neighbor in her 80s who has recently finished a course to learn Spanish. So proud of her. In university, I minored in Spanish myself. It may very well have kept open some language center in my brain to learn Arabic in my 40s. Seriously, early on in "mastering" this very difficult language, Spanish words and grammar would pop up in my memory even though I hadn't used Spanish in decades. If you do a Google search of brain benefits of language-learning, you will be amazed.
Photo Credit: Pixabay
Writer Trevin Wax recently wrote a piece What We Lose When We Lose Language-Learning. He gives strong support to learning second and third (or more) languages:
"A few years ago, I wrote about the "brainy benefits of being bilingual," and I included an excerpt from Time magazine that explained a few of the cognitive benefits of knowing another language:
Research is increasingly showing that the brains of people who know two or more languages are different from those who know just one—and those differences are all for the better. Multilingual people, studies show, are better at reasoning, at multitasking, at grasping and reconciling conflicting ideas. They work faster and expend less energy doing so, and as they age, they retain their cognitive faculties longer, delaying the onset of dementia and even full-blown Alzheimer's disease."

Even a partial grasp of other languages opens doors, not just to a better quality of life for ourselves (now and when we are older), but…the doors open for relationship. We live in a world of languages. I learned both Spanish and Arabic because they were the heart languages of peoples important to me.
Consider a path to a second language, no matter your age. Children can master other languages, too.  Definitely by the age of 10, but some researchers believe children can start learning other languages by the age of three or four. Give them a head-start on communicating in the world they will be encountering as they grow.
4) Temple Grandin – Several years ago (2010), we watched a film about a young girl/woman who had autism. This biopic film was entitled Temple Grandin.
Photo Credit: Our Lady of Calvary
Depicted by Claire Danes in the film, Grandin was fascinating in how she not only coped with autism but eventually adapted to it to become successful in her life and career.

This week she is featured at the Richmond Forum. Her discussion of the autism experience was winsome, humorous, and enlightening.
Photo Credit: Richmond Forum
Recap – Dr. Temple Grandin Illustrates Life With Autism – Thomas Breeden
Temple Grandin – The Way I See It – Richmond Forum
TED Talk – The World Needs All Kinds of Minds – Temple Grandin
5) Supplying a Food Desert – Food insecurity was a Friday Fave sometime ago. This coming week marks a big change in a Richmond neighborhood (Church Hill) as a supermarket opens in one of our city's often described food deserts.
Photo Credit: Facebook, The Market at 25th
Richmond's Market at 25th Shaped By History, Needs of Church Hill Residents – Catherine Komp
The Market at 25th – Facebook page
Below excerpted from my blog on food insecurity:
Food Insecurity – This is the social dilemma of not having adequate access to fresh, healthy food.
Photo Credit: Mary Lide Parker
A simple Facebook post by a friend generated a thought-provoking, rich conversation on this topic.
Photo Credit: Alee Swanner, Facebook
I share the links from that conversation below.
The Root of the Problem – an Interview with Lindsey Haynes-Maslow – Mary Lide Parker
The Role of Local Food Availability in Explaining Obesity Risk Among Young School-aged Children – Helen Lee
School and Residential Neighborhood Food Environment and Diet Among California Youth – Ruopeng An & Roland Sturm
Studies Question the Pairing of Food Deserts and Obesity – Gina Kolata
Should the Concept of a Food Desert By Deserted? – Layla Eplett
Always being aware of those who may need food is important. Certain times of the year, around special holidays, we are more likely to give to food banks, church food pantries, and other outreach ministries. This is just a beginning place…but it is a beginning.
Having The Market on 25th opening in Church Hill is huge!
_________________________________________________________________________
That's the 5. I would love for you to share your own favorite discoveries from your lately life. In the Comments below. Blessings!
Bonuses:
Richmond's Own Rodney Robinson – 2019 National Teacher of the Year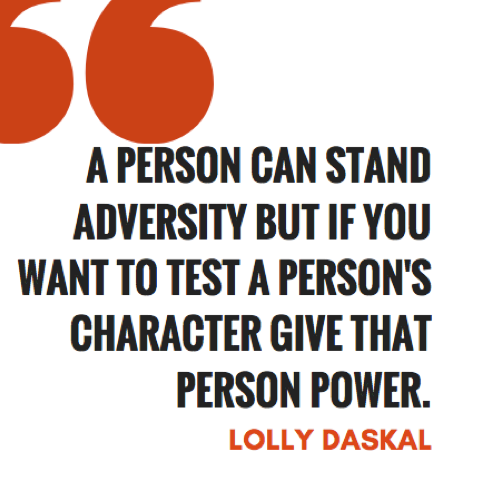 Photo Credit: Lolly Daskal, Twitter
Photo Credit: Carey Nieuwhof, Twitter
4 Keys to Creating a Healthy Culture That Naturally Resists Toxic People – Carey Nieuwhof
Quotes by C. S. Lewis – an intellectual feast for anyone
How to Build a Startup in an Unfamiliar Industry – Rahul Varshneya
This First Class Passenger Saw a U.S. Military Officer Flying Coach and Decided to Thank Her for Her Service by Giving Up His Seat – Rebecca Schlesinger